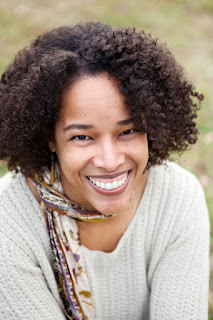 Nicole Tadgell was born in Detroit, Michigan. Frequent moves only increased her natural shyness, especially because she was sometimes the only black kid in the class or even the whole grade. Feeling different drew Nicole further into her own created worlds on paper, art was both fun and an escape.
While studying studio art at Wheaton College in Norton, Massachusetts, she recalled how much fun it was to draw her own stories - illustrating children's books could be the right path. "I knew I always wanted to be an artist," Nicole says. "But it wasn't until after college when I realized there was a lack of books with kids who looked like me." Her growth as an artist included becoming comfortable with herself, her shyness, being the new kid, and being black.
Encouraged to develop her art in a more realistic direction, Nicole created a portfolio showing lively characters with an authenticity that was uniquely hers.
Today, Nicole has over twenty books and numerous educational pieces published. "I love working on children's books," Nicole says. "Sometimes I pretend I'm the kid in the book, and do the things they do in the story to really get a feel for each book." Nicole also visits schools, gives lectures and conducts workshops.
Nicole's work has been honored by the Children's Africana Book Award, the Americas Award, the Arkansas Diamond Primary Book Award, and Growing Good Kids Award.
Many of her books have been selected to be among: the Bank Street Best College of Education, the Smithsonian Notable Books for Children, Cooperative Children's Book Center Choices Annual List, New York Public Library's Best 100 Titles for Reading and Sharing, Eastern Washington University Excellent Choice, Maine's A Capital Read, and Rutgers University Top 5.