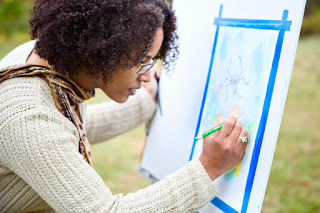 Nicole Tadgell is an award-winning african american illustrator for children. Her luminous, expressive illustrations warmly portray childhood life for children of all races.
Her work has been featured in
The Encyclopedia of Writing and Illustrating Children's Books
.
Original watercolor paintings have been exhibited at Quinsigamond Community College, ArtsWorcester, and in group showings at the Eric Carle Museum of Picture Book Art, Huntington House Museum and the Society of Illustrators.
Nicole has taught workshops and classes at the Worcester Art Museum, the Eric Carle Museum of Picture Book Art and at several Society of Children's Book Writers and Illustrators (SCBWI) conferences. Nicole also presents lectures at area schools and colleges. She visits classrooms, libraries and bookstores to demonstrate the picture book process.
She is represented by
The CAT Agency
.
Nicole spends her days with
Davis Advertising
in Worcester, MA, as an Art Director.
Born in Detroit, Michigan, Nicole has lived in Texas, New York, and Massachusetts, where she now resides. Read more details in
Biography
.
Short Bibliography:

(click here for complete bibliography)

31) Tiara's Hat Parade by Kelly Starling Lyons

30) A Valentine for Frederick Douglass by Frank Murphy

29) A Fist for Joe Lewis and Me by Trina Hakes Noble

28) Follow Me Down to Nicodemus Town by Alexandria LaFaye

27) Astronaut Annie by Suzanne Slade

26) Real Sisters Pretend by Megan Dowd Lambert

25) My Cancer Days by Courtney Filigenzi

24) With Books and Bricks by Suzanne Slade

23) Friends for Freedom by Suzanne Slade

21) Lie Detector by Matt Bridger

20

) The Present by Matt Bridger

19

) Saturday Plans by Matt Bridger

18

) The Trebuchet by Matt Bridger

1

7

) Smack Dab in the Middle of God's Love by Brennan Manning and John Blas

é

15) Lucky Beans by Becky Birtha (Arkansas Diamond Primary Award)

13) Granddaddy's Season* by Gwen Lavert

12) Five Loaves and Two Fishes by Julie Stiegmeyer

11) Waterworks* by Gwen Lavert

5) I'll Fly My Own Plane by Jean Alicia Elster

4) I'll Do the Right Thing by Jean Alicia Elster

3) I Have a Dream, Too by Jean Alicia Elster

2) Just Call Me Joe Joe by Jean Alicia Elster
*not published in the U.S.
Notable Awards: (Complete list here)
2013 Arkansas Diamond Primary Award - Lucky Beans
2013 Growing Good Kids Award - First Peas to the Table
2013 Learning Magazine's Teachers Choice Award - First Peas to the Table
2011 Growing Good Kids Award
- In the Garden with Dr. Carver
2006 Américas Award - Josias, Hold the Book
2003 Children's Africana Book Award - Fatuma's New Cloth
1999 Mary T. Holland Awards - Merit Award for Illustration
Client List:
Albert Whitman and Co.
American Cancer Society
Bebop Books
Color-Bridge
Charlesbridge
Judson Press
Lee and Low
Macmillian McGraw
Moon Mountain Publishing
Pearson Learning
Random House
Scholastic
Thomas Nelson
Zondervan